Anchorage Golf Course (tips)
6601 yards – 71.4 Rating – 129 Slope – 88 Score
Day 49; June 8th, 2017
The first thing I have to say about Anchorage is that I only played 17 ½ holes; needing to concede number four to a mama moose who was bathing in the greenside pond (this just in… moose are *really* big in person).  The second thing I have to say is that the staff at Anchorage is fantastic.  I've now played in 50 states (in the last 50 days) and this group is easily among the best as far as service, commitment to the guest experience, etc.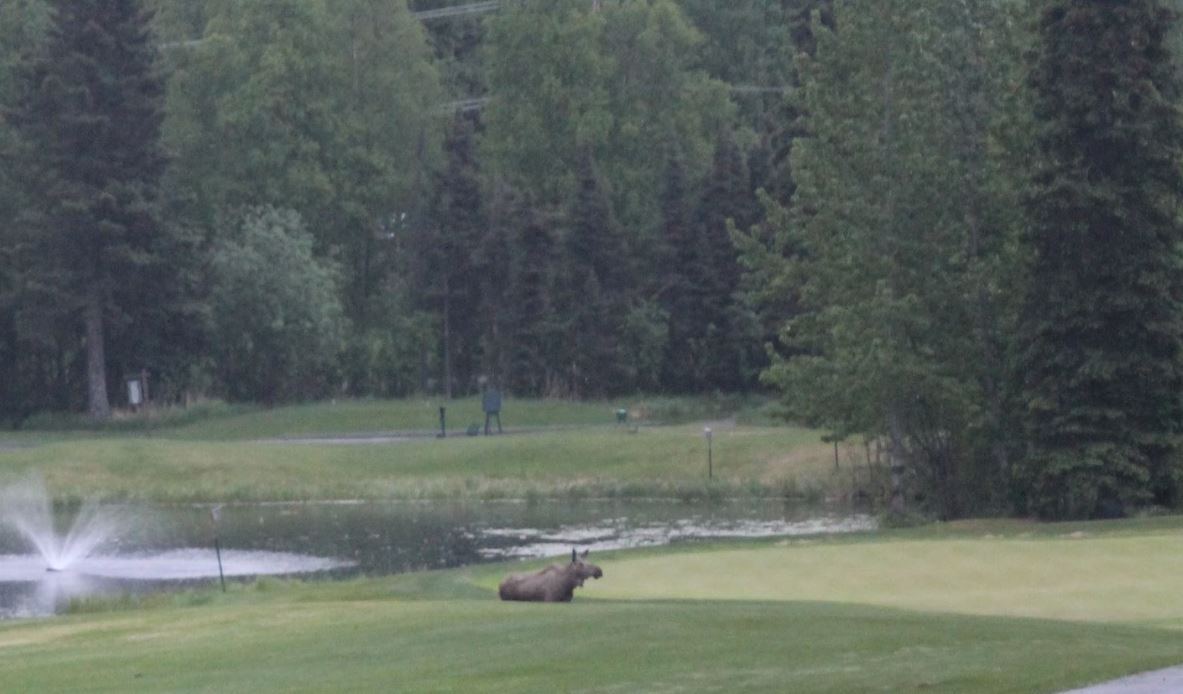 Note: Pictures were hard at Anchorage, it was dusk and it was raining… I still think Melanie got some good ones though 🙂
There was also some golf.  It's rare for a 30 year old course to feel like a turn of the century "classic" but Anchorage really has that aged/mature feel.  This is largely because it is forged from native timber so, while the course is newer, its fairway borders are most certainly not.  I loved the feel of taking a walk in the wilderness while at the same time playing a round of golf.  Because of civil twilight, I was also able to tee off at 10:00pm and play all 18 (finishing up around 12:30) which was also a unique experience.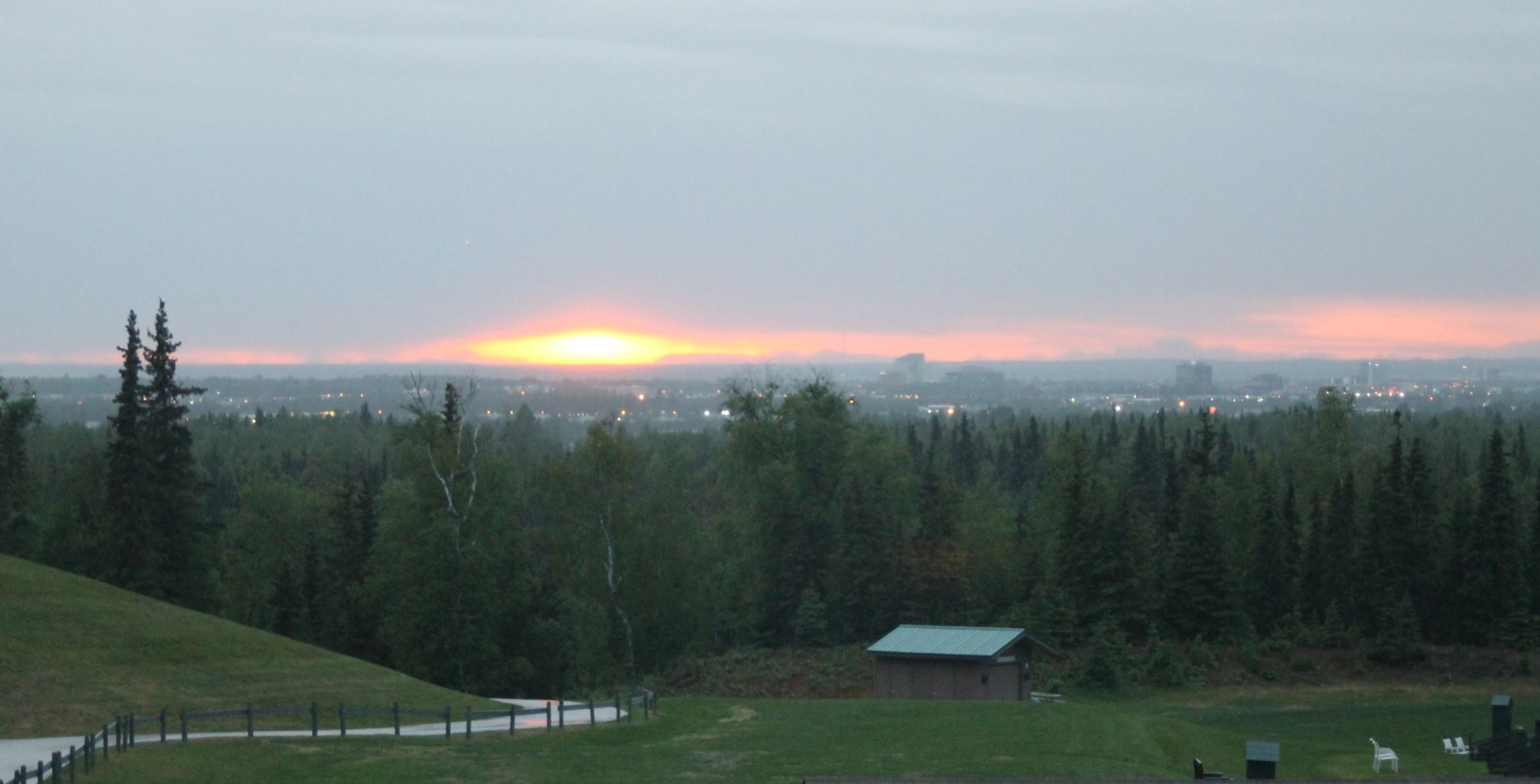 I found the course quite playable (6628 from where I played from, the blues) and, until twilight started limiting my vision a little on the last few holes forcing me to switch to shorter irons, I felt like it was a course that I could post a pretty decent score on.  Even playing my 7 and 8 irons off the tee's, I was sitting on most of the greens with a par putt (albeit a long one).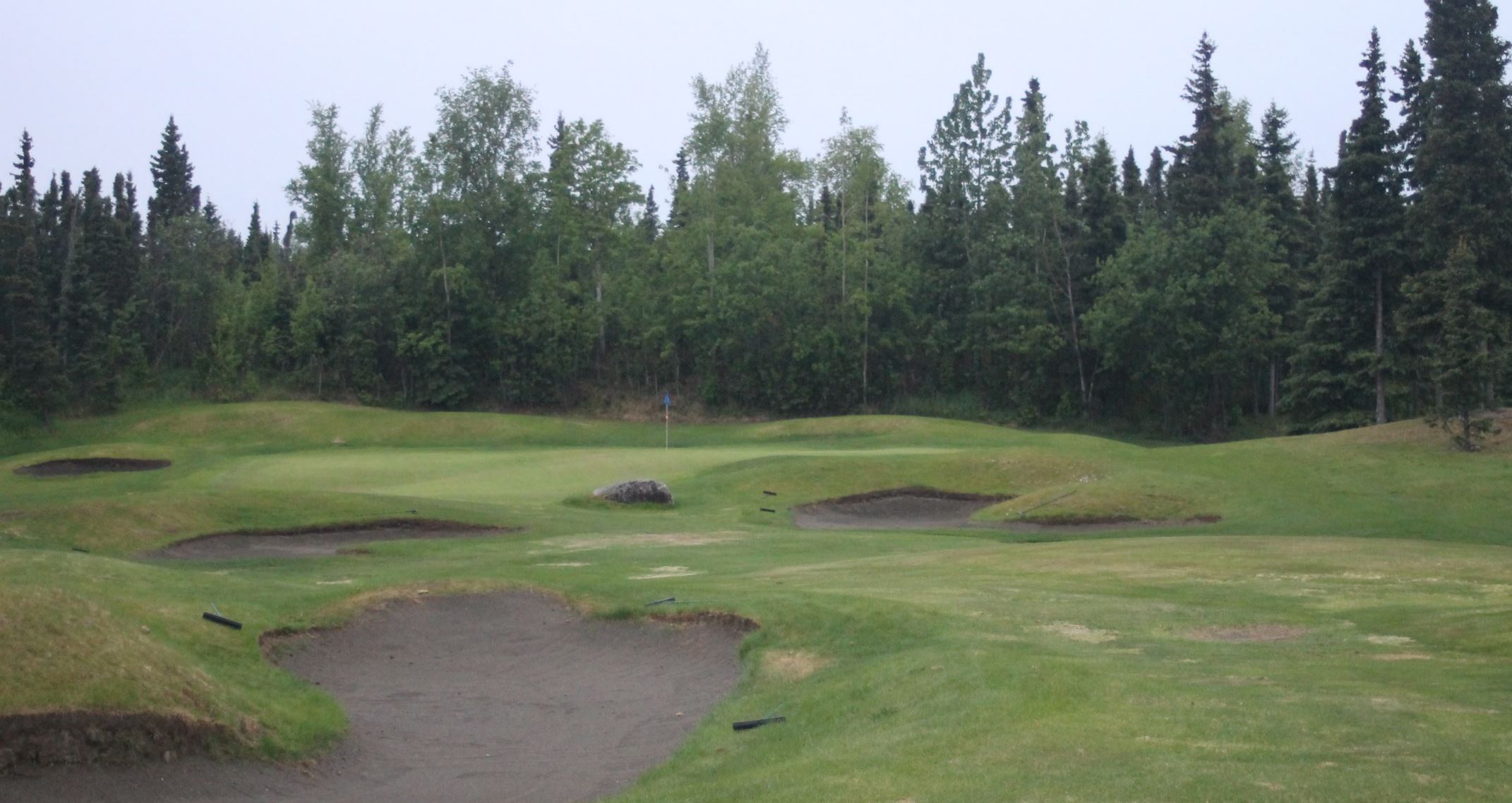 None of this means this track lacks challenge though.  Good use of angles and dog-legs keep the course protected and the greens from being assaulted too easily.  I particularly liked #2 which, while somewhat short, had several golf elements in play.  As you make the turn out of the dogleg you are faced with more of a rolling (tightly groomed) grassy waste than a fairway, putting a premium on your approach shot.  It really felt like playing a par 4 and a par 3 on the same hole.  There isn't really much water on the course, nor did I consider the sand very "findable;" however, the rough forest landscape created plenty of challenge for wayward shots.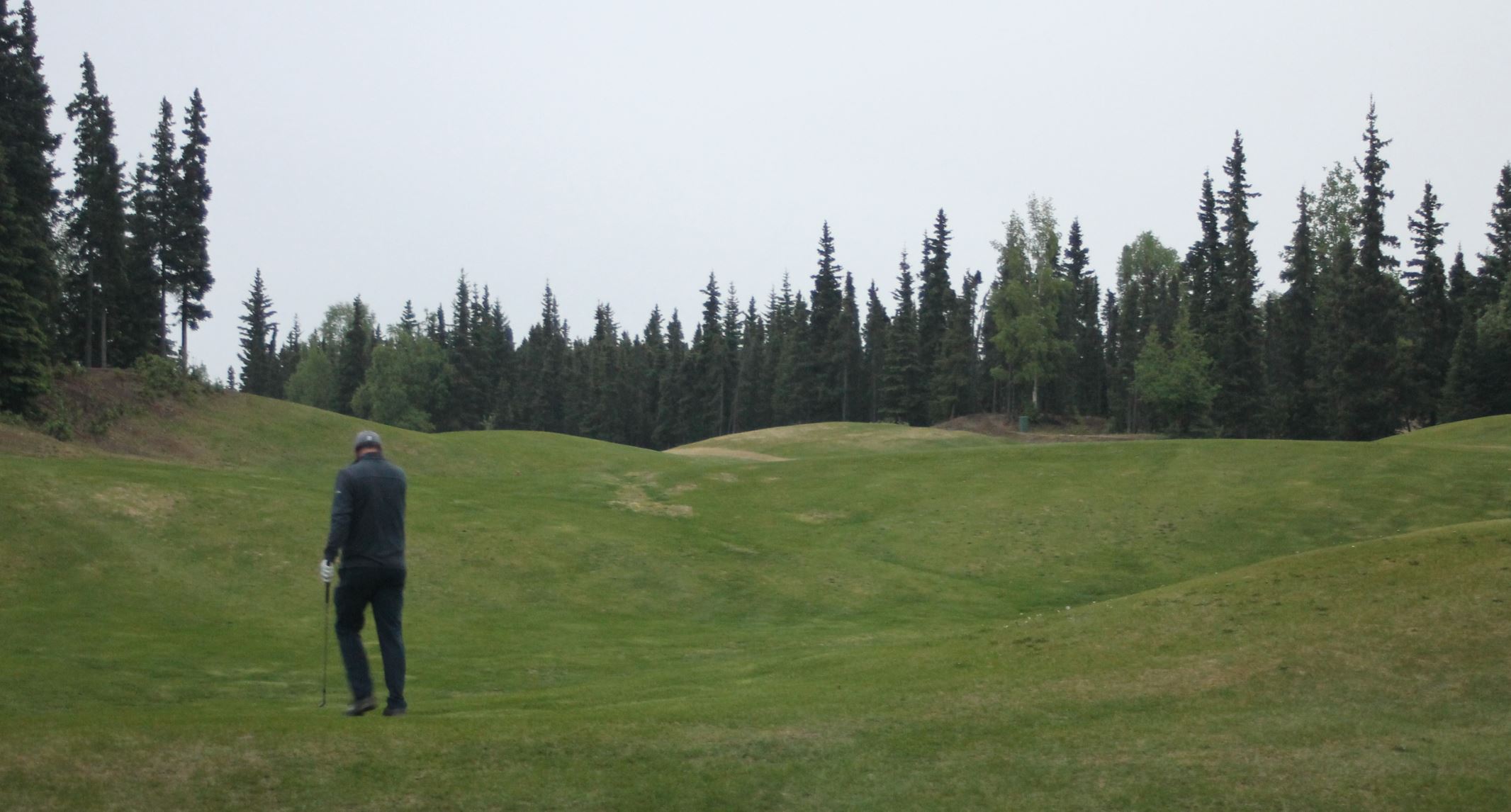 Unfortunately, based on the time of year I played (right after opening, and very shortly after the last snowfall) the greens and fairways were not at their absolute best.  However, you can easily tell from the areas that are "coming in" it's only a matter of time before the course will be in super shape and looks to support some rally fantastic summer golf.  Even given its relatively recent emergence from winter hiatus, the course still laid out and played great.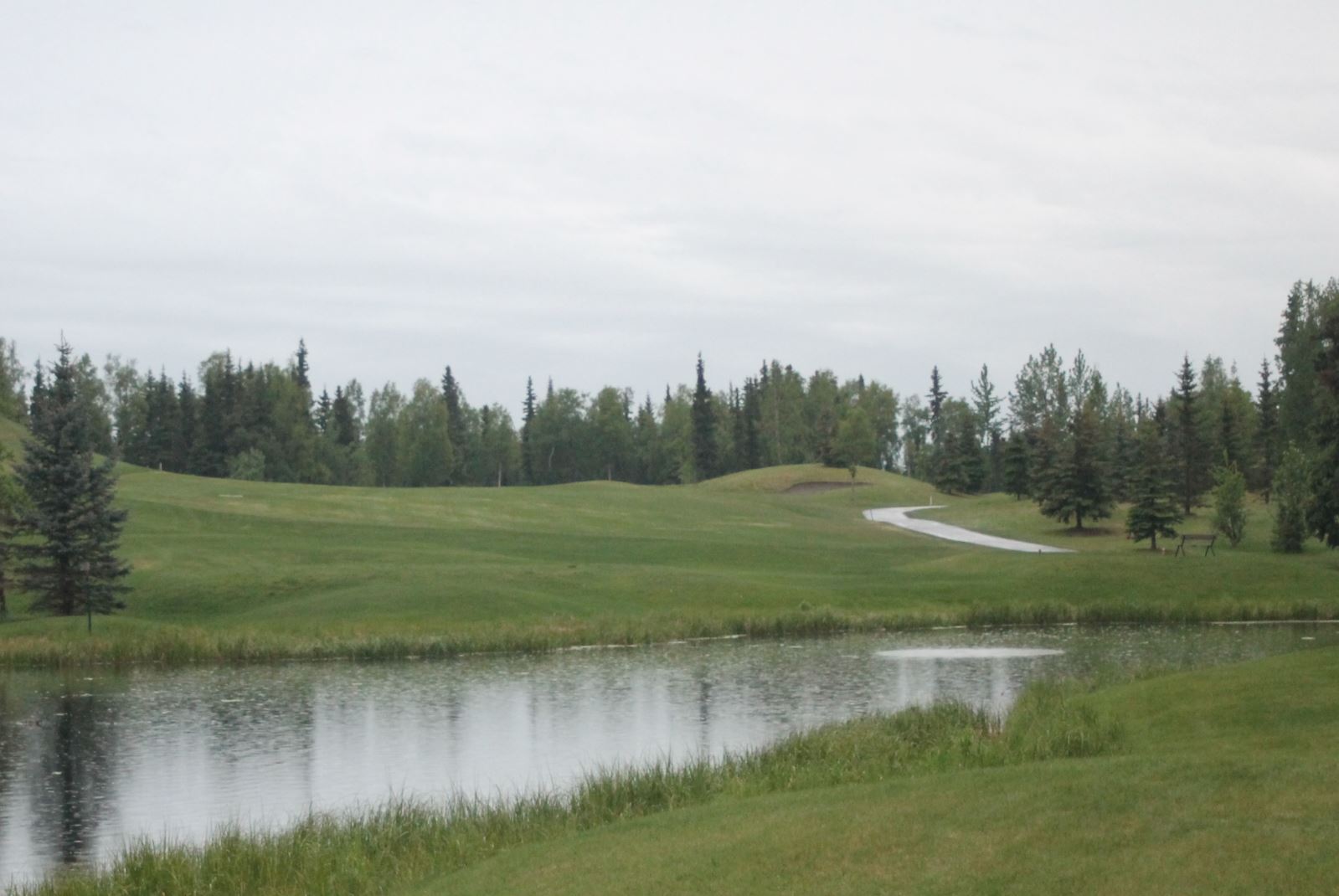 The location is also convenient, just minutes from pretty much anywhere in Anchorage.  Overall I just had a super experience at Anchorage Golf Course.  Moreover we really enjoyed Alaska on the whole and certainly plan to visit again (and you can bet I'll replay this course when we do!).