Potomac Shores (Silver)
5790 yards – 68.9 Rating – 132 Slope – 89 Score
Day 24; May 14th, 2017
I'll preface this review by pointing out this was the first time I had played with accompanying media and, despite my protestations that it shouldn't matter who you play with, it was an interesting experience because of that.  He was there reviewing the course as well, my story was in addition to that, so I wasn't the complete focus like later rounds, but still, it was something different and probably effected my overall experience moreso than my play.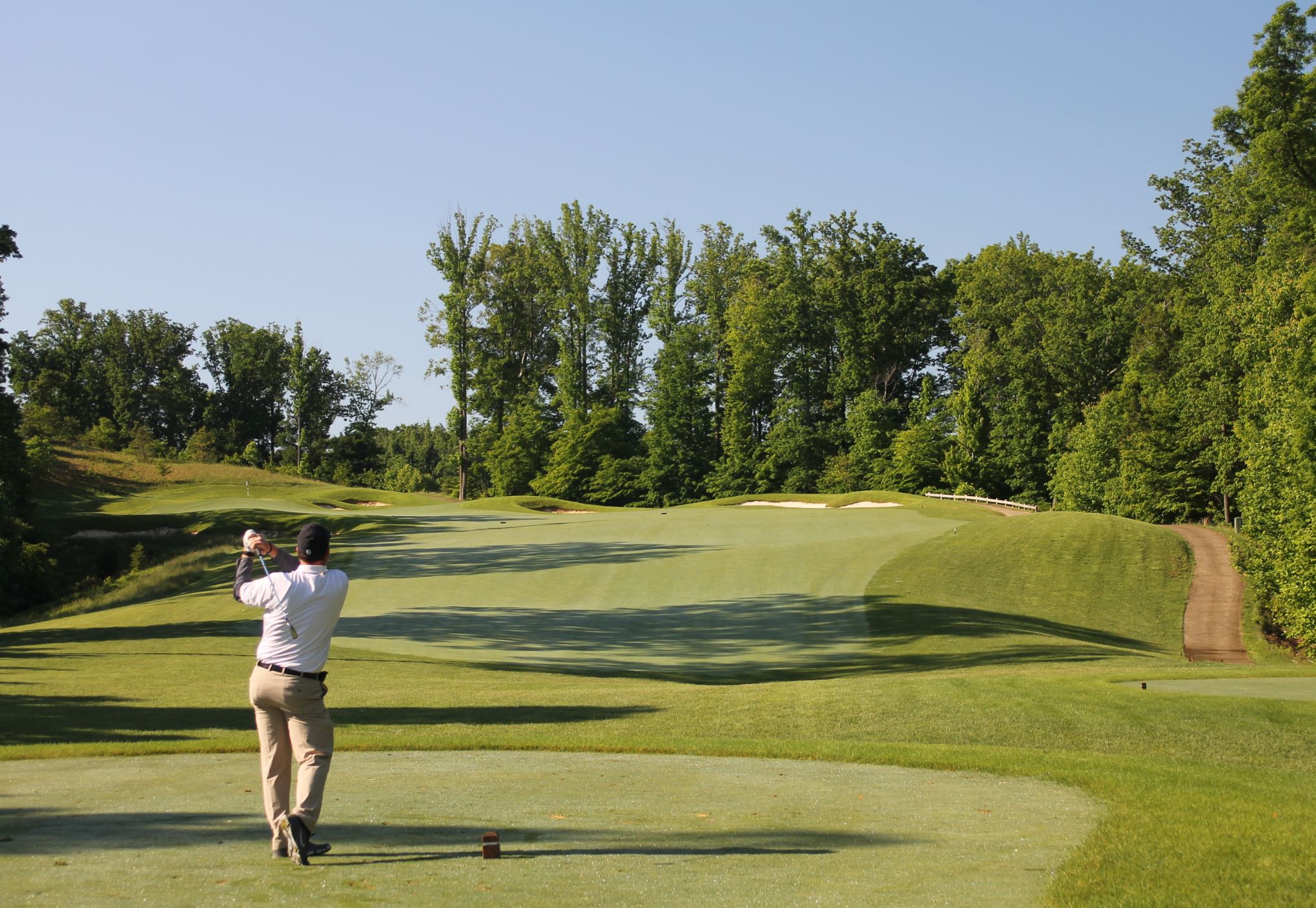 We played the relatively forward silver tees which were well under 6000 yards and rated at 68.9 which was the lowest course rating of the 51 rounds I played on this trip.  None of this contributed to a good score however, and I barely managed to stay below the mason Dixon line of 90 (carding a dog-fight-grind of an 89).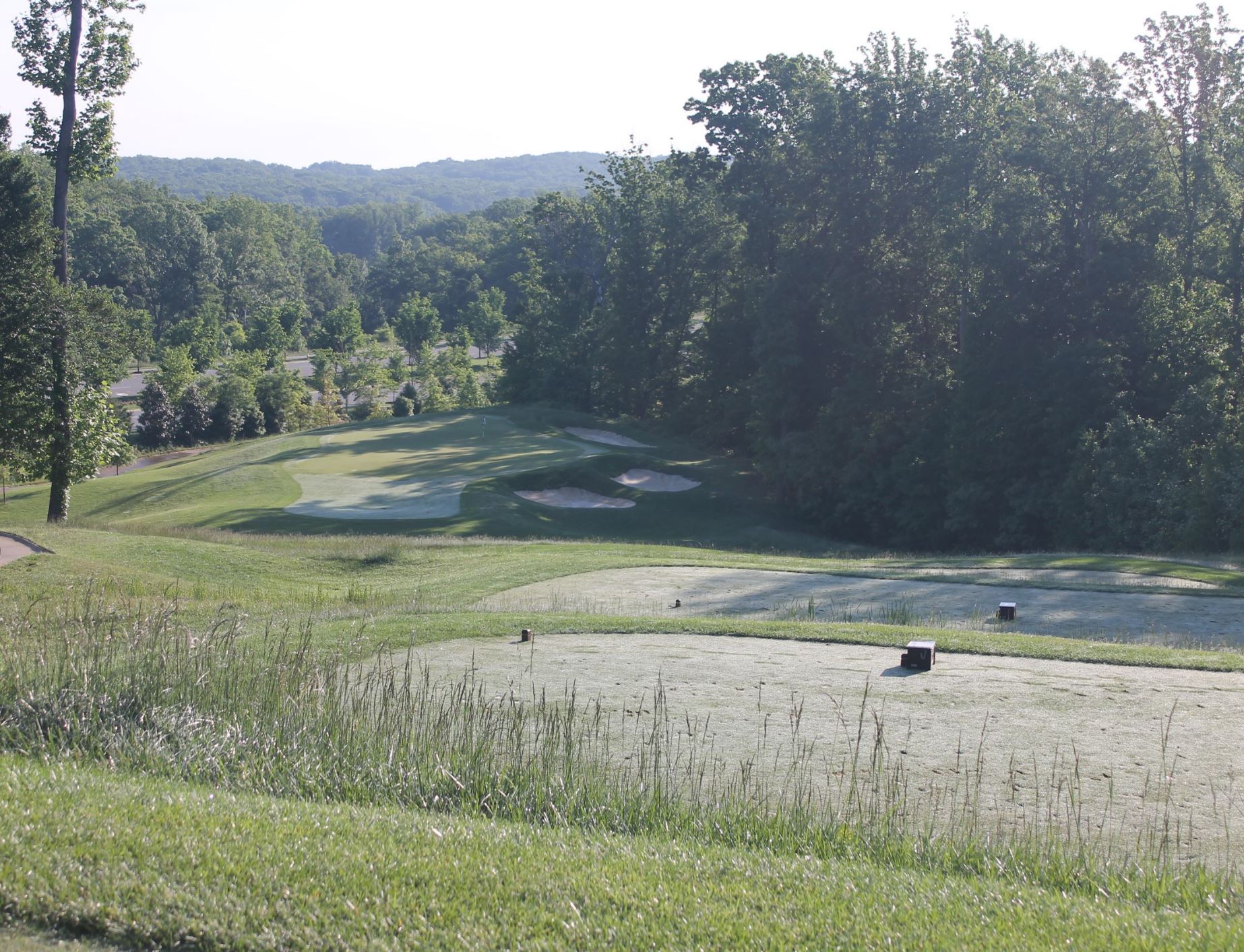 While I didn't have many shots to write home about, my best shot of the trip was on the par four 12th; a 188 yard 7 iron through a tiny gap in the trees onto the green.  Which brings me to my first point about Potomac shores, there is no shortage of opportunities to make a phenomenal shot.  Many holes offer risk/reward options and very often a so-so shot can be made up with a fantastic one.  Having said that, it is worth noting that attempting that fantastic make-up shot can be particularly damaging to your score here, as there are a lot of areas where you simply aren't getting your ball (or much distance) back if you fail to make the shot and a blow-up hole can quickly ensue.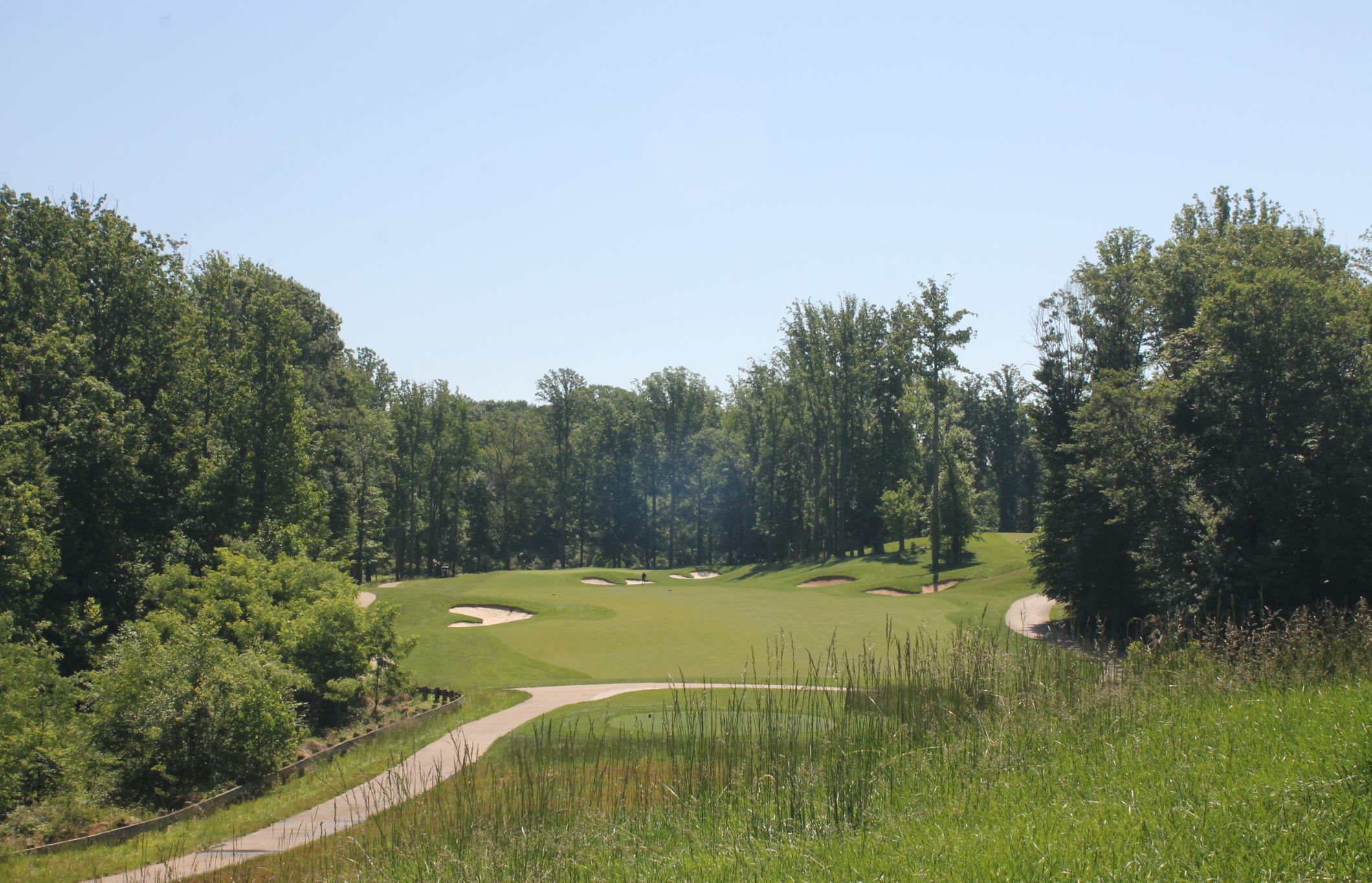 Potomac Shores is a shot makers dream, and I'd love to play again (in fact I plan to play again) when I'm actually striking the ball well.  I believe there is a real opportunity to post a low score here.  The greens are generally well protected; both by approach angles as well as bunkering and elevation change.  However unless you wander into OB territory the challenge is not overly punitive and the course allows opportunities to make up ground.
The signature par five 10th hole is a beauty and a Nicklaus classic with an island of trees and long grasses splitting the fairway on your downhill approach shot.  Placing your tee shot well is critical to having a reasonable second shot and setting up your approach.  On a positive note, this hole is as scenic as it is challenging and, visually, you will love it the whole way.  I was there in the spring, I can't imagine how pretty it is in the fall.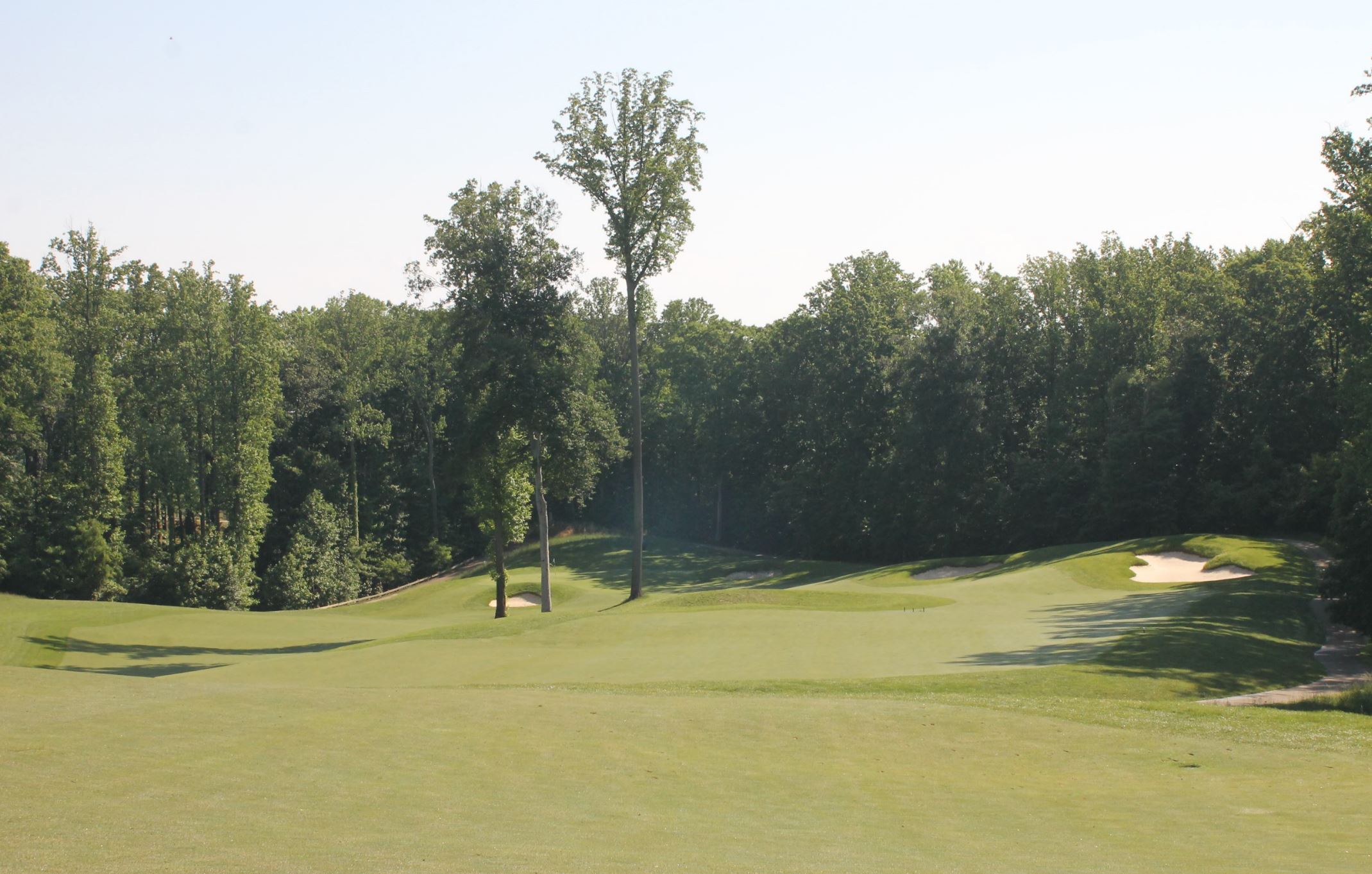 Arguably my favorite part of Potomac Shores is that it is a trail of holes (one hole simply leads to the next) that progresses in a giant loop.  There are almost no holes side by side, and even the few that are close don't create a presence that is felt at all.  I felt alone (in the best of ways) on the course all day.  There are some long jaunts between holes and, as such, the course requires players to ride in a cart.  As much as I prefer to walk, this is a good decision as it would simply take too long for groups to walk from one hole to the next in certain places and really effect pace of play.  Do be sure to take some time and enjoy this course; however, it really is a wonderful layout and every single hole is scenic.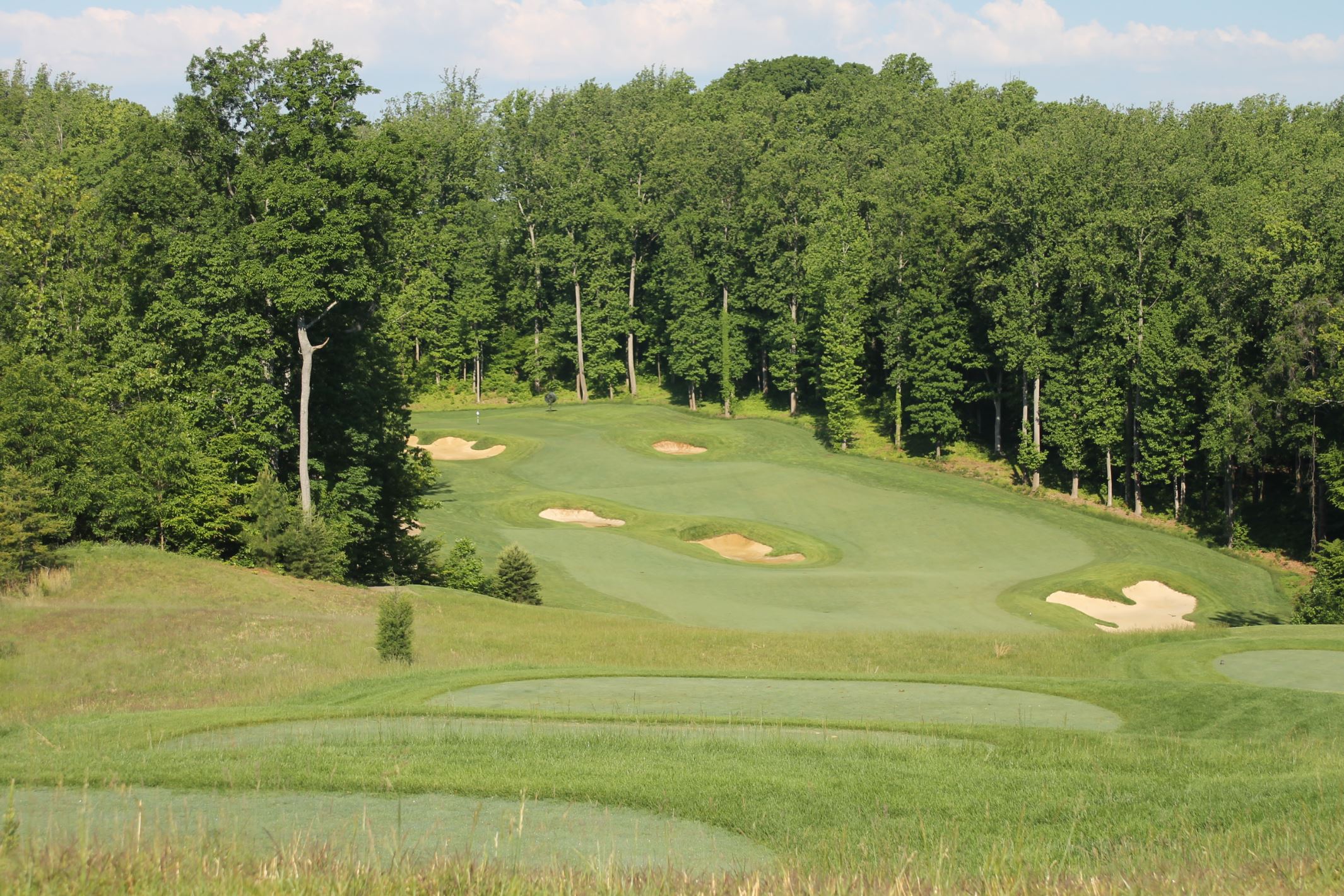 Another unique feature is that the 18th and practice greens are on the same putting surface.  From the 320 yard silver tees I played, your drive will probably get you close enough that you won't feel intimidated by people warming up on the green you are hitting into.  However, if I had been faced with a longer approach shot (e.g. from the 400+ yard back tees) this may have given me a moment of pause.  For me, hitting a little wedge shot from about 85 yards, it was fun.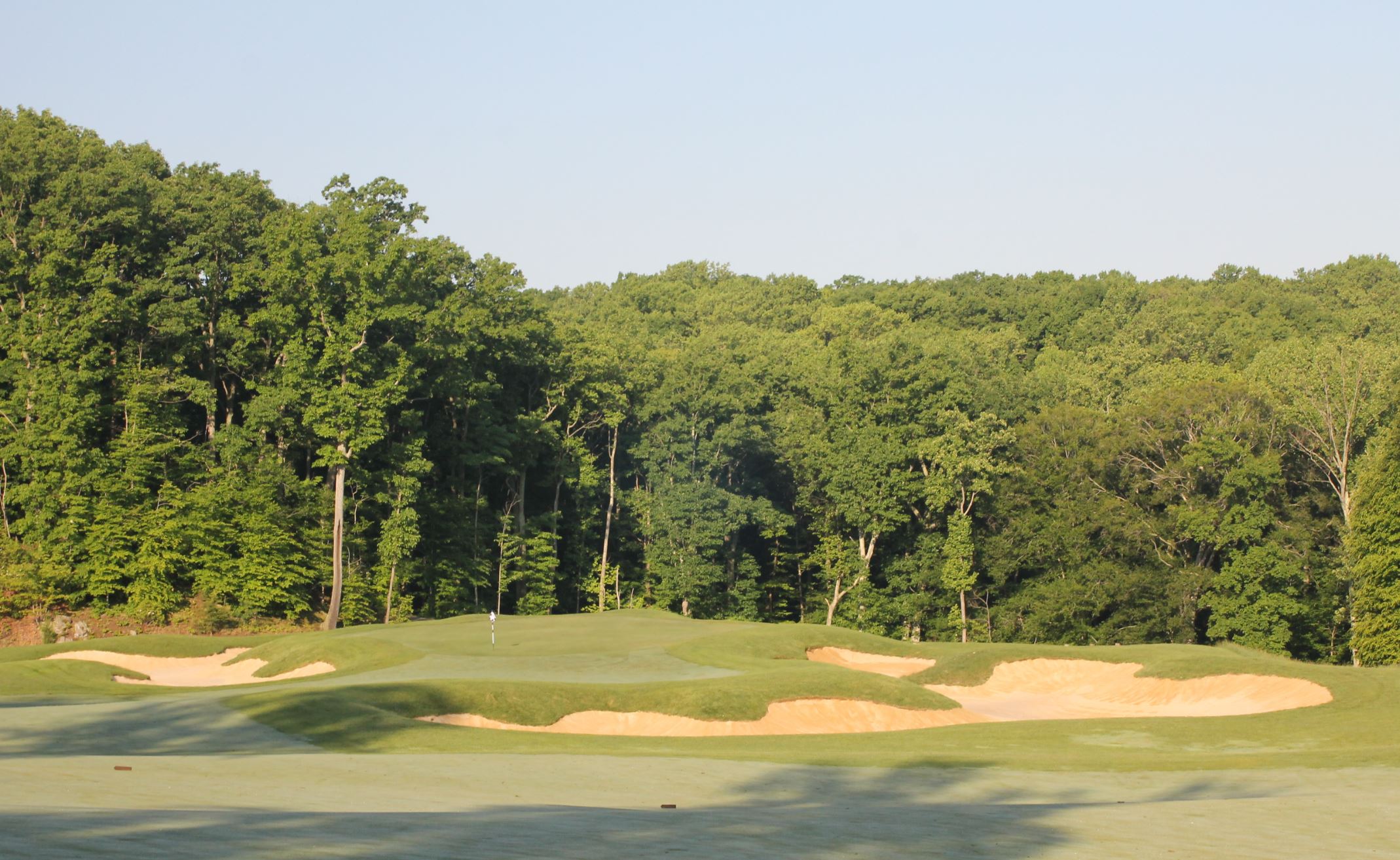 I found the staff very friendly and helpful all around, the only thing that I thought could really be improved was signage on the course.  I picked up a yardage book in the clubhouse and it helped a bit; however, without it I think the decision on which way to drive after the first hole would have been a coin flip at best.  Overall I thought this was a very nice course that played a little tougher than its rating mostly because the cost of an error is a little steep for a 68.9 (although, to be fair, this is probably adequately represented in the slope of 132).
I'd recommend this course to anyone in the area and intend to visit again when I get the chance.