Welcome to Fairways and Freeways.  My name is Soren Jacobsen and since the time I was around twenty years old, it has been a dream of mine to take a road-trip (well mostly road anyway) to all fifty states, playing golf in each one along the way.  Well, I'm not in my twenties anymore, in fact very soon I'll be fifty,  and this got me thinking again about my fantasy golf tour.  Why not play 50 rounds of golf, in 50 states, in 50 days, at the age of fifty?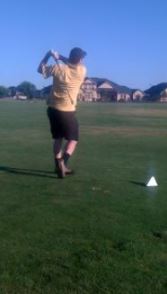 By way of full disclosure, I am not an expert golfer… in fact I'm not even a particularly good golfer (although I did shoot an 82 this morning, which for me was quite good).  My scores are as often in the 90's as they are in the high 80's.  I'm kind of your average bogey golfer.  But I do love the game, and I love to travel, and I've got a dream… so here it goes!
I do recognize this will be challenging.  My intention is to walk all of the courses rather than riding, so there will be a physical toll on my body.  Neither Golf nor travel are cheap either, so there will be a fiscal toll as well.  However, I believe I can, and will, accomplish this goal.  Along the way, I'm also hoping to take advantage of (by far) the most focused golf experience in my life to improve my game, I'm hoping to trim at least 10 points off my handicap along the way.  Goals, I've got them!
My target for departure is spring 2017.  My outstanding employers have given me their full support to undertake this junket… so I won't even lose my job in the process (a consideration that was of utmost importance when considering if this would be possible).  My family is behind me as well… what could go wrong???
This blog will be a big part of the process.  I'll be live blogging here (as well as via social media) as I make the trip with the ultimate goal of having it all come together into a book called (yep, you guessed it) Fairways and Freeways.  Some of the content for the book will appear first on this blog, some will never been seen here ("book only") and still more will be "blog only" material and never make it into the book.  How that will all break down I'll have to figure out as we go.  What I know is that there will be more information about the preparation for the trip here, as well as many stories from the road than cannot be included in a coffee table book (due to space).
I hope you come back and visit from time to time.  Between now and early 2017 it will be largely writing about the prep process – there is so much to plan and learn – with the emphasis tilting toward the actual trip next Spring.  Enjoy the ride… I know I will! 🙂